Best Internal Linking WordPress Plugins for 2023; A great blog post isn't complete without internal links to help readers navigate through your posts.
A very important aspect of on-page SEO is the area of internal linking of your website pages, this goes a long way in enhancing your website's domain authority and also your page authority.
Internal linking helps bring more traffic and engagement to your blog, which in turn leads to more organic search engine results, and ultimately improves your SEO.
In today's article, I'll be discussing the 6 best WordPress plugins to improve internal linking on your website.
I've seen quite a number of bloggers rely solely on backlinks(external linking) in increasing their website's SEO. While this is advisable it is not just the only step involved, in improving your website ranking.
You must have well-structured internal links around your paragraphs to create a strong on-page SEO as well as Page authority.
KEY TAKEAWAYS
Underestimating the importance of Internal Linking in an SEO strategy is very common.
An internal link is often seen as a way to transfer SEO energy between two or more pages.
Internal links help Google find and index previously unindexed content on a website during its crawling process.
Internal linking boosts your overall organic traffic.
It also improves the click-through rate on your website.
WordPress offers a wide range of plugins for linking your blog posts, I will be discussing the most effective plugins in this guide and how you can implement them right away!
All the WordPress plugins discussed below have both free and paid subscriptions, it's all up to you to decide if you want to make use of their paid subscriptions or not.
Personally, I've used every one of them on my blogs and can assure you that they are all effective.
Before we dive in properly, I would like to brief you on what exactly is internal linking and why you should link your website pages.
What is Internal Linking in SEO?
Internal linking in SEO is simply linking from one page on your website to another page while Internal links is a phrase that refers to any link on your website to another page on the same website.
Internal links improve your site's visibility in search results and make it easier for your readers to navigate through your web pages.
It is very important to make sure that the links within your website(internal links) are well structured before you even begin the process of developing backlinks or external links to your website.
Why should you add Internal Links?
There is no hiding the fact that internal links are good for search engine optimization(SEO). But to what extent is this true?
What are the advantages of having internal links? Why should you add them to your web pages?
All these and many more are questions, that come to mind when we talk about Internal links.
Well, there are quite a number of reasons why you should add internal links to your articles or publications. The most important are listed below;
Let's have a peek.
Internal Backlinks Decrease Bounce Rate.
They distribute SEO Link juice to linked articles.
Internal links give Search Engines a better idea of your page context.
Internal links help to increase your Sites Indexing metrics.
They give your readers a better user experience.
I explained the above importance of internal links in detail and also everything you need to know about internal linking in the below article. Have fun reading;
---
Must Read: What is Internal linking in SEO: Everything You Need to Know
---
Importance of Internal Link Building in SEO
An effective strategy of building internal links can do wonders for your website and serve as the bedrock of your SEO strategy.
Here are the three most important reasons why you should add internal links.
Crawling and Deep Indexing
Crawling is one of the activities that search engine bots enjoy doing, and they do so through links.
Internal links make it easier for bots used by search engines to crawl and index the content of your pages or blog posts.
When they find a page, they crawl through all of the information on that page, going from one link to another link until they have examined everything on that page.
In order for your content to be found, crawled, and indexed on search engine result pages(SERP), you need to link your pages to one another.
Lowers Bounce Rate
Internal links are very important in minimizing your website's bounce rate.
Your audience will typically remain on your blog for a longer amount of time if you link one blog post to the next relevant blog post.
This will in turn decrease the percentage of visitors that may immediately leave your site after reading a particular article.
User Experience
User experience is really important when it comes to engaging a user, in our case; a reader.
Including links to other pages of our websites can make it easy for a reader to not only find what they are looking for but also gain extra knowledge on its related topics.
Best Internal Linking WordPress Plugins
WordPress is a fantastic platform, but one of its weaknesses is the lack of internal linking capabilities. Luckily, there are some great plugins that can help you with this problem.
The plugins we have chosen below are the best internal linking plugins available.
By now you should have a better understanding of why it is necessary to engage in internal link-building on your website or blog.
However, which WordPress internal linking plugin do you think is the most effective?
Let's take a look at some of the best internal linking plugins that WordPress has to offer in order to help you decide which one to use on your website.
Manually adding links to your website can be a time-consuming procedure, especially if the website has hundreds if not thousands of pages.
These WordPress plugins will help you to renew your content and add up-to-date internal links that are essentially relevant to the topic of a page.
Keep in mind that, doing all these will improve your overall on-page SEO and you will surely see an increase in your search engine results.
1. Link Whisper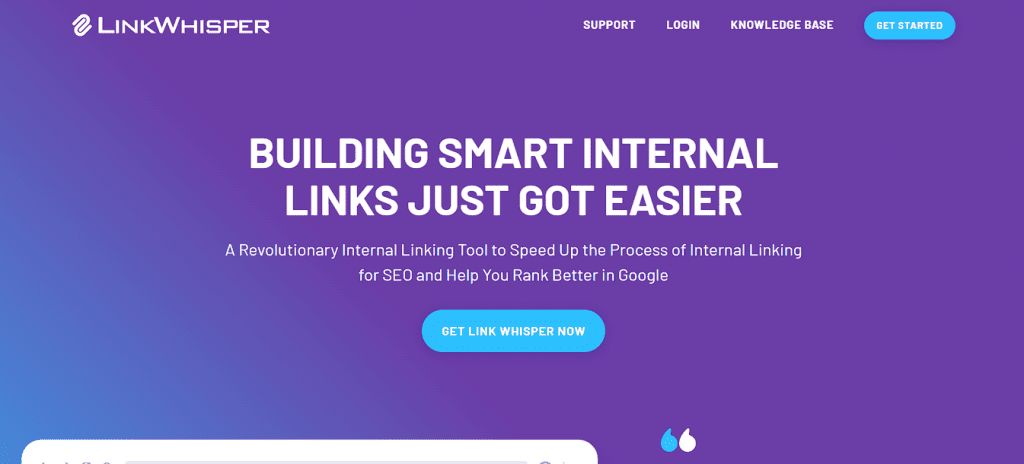 The whole process of creating internal links on your WordPress site can be simplified with the help of this unique plugin called LinkWhisper.
LinkWhisper goes above and beyond by recommending internal links as well as the anchor text to use when linking your web pages or articles.
As a result, you can save a considerable amount of time and uncover new opportunities to rank higher on search engines.
Another useful functionality provided by the WordPress plugin is the generation of Internal Linking Reports.
These reports enable a webmaster or a blogger to determine the total number of Internal links that point to a specific page, in addition to determining whether the page contains outbound inner links or external links.
Feel free to give it a trial by clicking on the below button.
[mks_button size="medium" title="Try Link Whisper" style="rounded" url="https://linkwhisper.com/" target="_blank" bg_color="#de7f0d" txt_color="#FFFFFF" icon="fa-sign-in" icon_type="fa" nofollow="1″]
2. Yoast SEO
Yoast SEO plugin is a very popular WordPress plugin when it comes to SEO. You've probably heard of it, even if you're not currently making use of it.
Yoast plugin has a lot of functionalities that help to improve SEO ranking; internal linking is one of them.
I won't be going into much detail about the other features of this plugin, however, if you are looking to optimize your keyword, check your website's readability score, fix your site's redirection issues, and a bunch of other SEO fixes; Yoast is your goto WordPress plugin.
The internal linking feature of this plugin is mind-blowing, It analyzes the text of your entire article and provides linking suggestions to relevant articles that you have written in the past.
The fact that it comes with this feature in an all-in-one SEO plugin is really amazing. It simply helps in minimizing the number of WordPress plugins you have installed.
Thereby, speeding up your website's speed.
However, there's a downside to this plugin if you are only after a free WordPress plugin. The internal linking feature of Yoast SEO is only available in the premium version, it's totally a must-have if you ask me.
A single website license for the premium plan costs only about $99, and it includes perks like free support and upgrades for an entire year.
Click on the below button to get started with Yoast.
[mks_button size="medium" title="Try Yoast SEO Plugin" style="rounded" url="https://yoast.com/" target="_blank" bg_color="#de7f0d" txt_color="#FFFFFF" icon="fa-sign-in" icon_type="fa" nofollow="1″]
3. Interlinks Manager
Interlinks Manager is an SEO plugin for WordPress, It gives you the ability to monitor and optimize the quality of your internal links.
This plugin will first generate the data for your internal links by using powerful PHP regular expressions from your content.
It will then evaluate this data in order to provide you with helpful internal link suggestions.
More specifically, the plugin enhances WordPress via the following features:
Internal links analysis.
Link juice analysis.
An algorithm that detects the internal links optimization status.
Interlinks Manager appears to be a very powerful tool that comes with a large number of features that can be added to your SEO strategy.
These features can assist you in developing a more intelligent and effective internal linking strategy for your website. It consists of both a free and paid subscription plan.
For SEO professionals, Interlinks Manager offers the Pro Version with a 30-day money-back guarantee formula.
Click on the button below to get started with Interlinks Manager
[mks_button size="medium" title="Try Interlinks Manager" style="rounded" url="https://wordpress.org/plugins/daext-interlinks-manager/" target="_blank" bg_color="#de7f0d" txt_color="#FFFFFF" icon="fa-sign-in" icon_type="fa" nofollow="1″]
4. Rank Math
Rank Math is a Search Engine Optimization plugin for WordPress that makes it pretty easy for anyone to optimize their content with built-in suggestions based on widely-accepted SEO practices.
Rank Math has quickly risen to fame as the ultimate SEO plugin for WordPress and is often regarded as the best alternative to the Yoast SEO plugin.
This fantastic SEO plugin has numerous features, one of which is the Internal link suggestions.
As you create content, Rank Math analyses your articles and offers recommended links from your website for internal linkage. This makes internal linking a whole lot easier.
In addition to the internal linking, Rank Math is packed with a ton of other fantastic features that together makes it the ideal SEO WordPress plugin.
The following is a list of some of the features that comes with this plugin:
SEO Analyzer.
Keyword Rank Tracking.
Rich Snippets.
Automated Image SEO.
Redirection Manager.
The fact that the Rank Math WordPress plugin is available at a ridiculously low price is without a doubt, its most attractive feature.
Rank Math is an excellent option to consider if you need a comprehensive SEO plugin for your website.
In order to take advantage of even more advantages, you might want to think about replacing your SEO plugin with Rank Math.
[mks_button size="medium" title="Try Rank Math Plugin" style="rounded" url="https://rankmath.com/" target="_blank" bg_color="#de7f0d" txt_color="#FFFFFF" icon="fa-sign-in" icon_type="fa" nofollow="1″]
5. Inline Related Posts
Inline Related Posts is another great WordPress plugin that takes away the stress of interlinking articles manually.
It brings a new experience to your visitors and helps you keep your readers engaged.
In addition, this plugin comes equipped with a robust algorithm that scans the content of your posts for grammatical rules, then automatically adds the internal links without disrupting the flow of your content.
Using the Inline Related Post WordPress plugin, internal links will be added to your articles automatically without any additional effort on your part after the initial installation.
[mks_button size="medium" title="Try Inline Related Posts Plugin" style="rounded" url="https://wordpress.org/plugins/intelly-related-posts/" target="_blank" bg_color="#de7f0d" txt_color="#FFFFFF" icon="fa-sign-in" icon_type="fa" nofollow="1″]
6. Internal Link Juicer: SEO Auto Linker
Internal Link Juicer is one of the most advanced WordPress plugins for building internal links within your post content.
This internal linking WordPress plugin has over 30,000 active installations, this goes to show how competent it is.
Internal Link Juicer helps build internal links for your content through the use of an intelligent per-post arrangement of the keywords that you specify.
It improves both on-page search engine optimization and the user experience (UX) of your website by showcasing the content that is most relevant to the context at hand.
[mks_button size="medium" title="Try Internal Link Juicer Plugin" style="rounded" url="https://wordpress.org/plugins/intelly-related-posts/" target="_blank" bg_color="#de7f0d" txt_color="#FFFFFF" icon="fa-sign-in" icon_type="fa" nofollow="1″]
In Conclusion,
You can index content or pages that haven't been crawled by search engine bots by making use of the Best Internal Linking WordPress Plugins. They can serve as navigational guides.
It is very common to underestimate the importance of internal linking in your SEO strategy.
In fact, the majority of content creators understand the value of external links (backlinks) in increasing their site visibility, but they still neglect having a proper internal linking structure.
These 6 WordPress internal linking plugins can help you speed up and, more importantly, automate your internal linking process.
If you have any queries about these plugins or internal links in general, please leave a message in the comment section below. I can't wait to respond to you.
Also, if you need further assistance in creating internal links and also backlinks to your website, kindly Click Here to Find Out How My Company Can Help You Boost Your Brand's SEO.